Jim Lampos: Reviews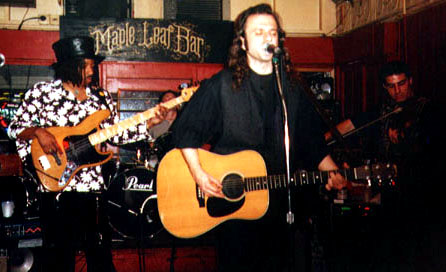 "A songwriter of the highest order." The Day, New London, CT June 10, 2016
"Jim Lampos is an affecting storyteller, and his fourth recording, Rye, is remarkable." Newsday, New York, NY Nov. 1, 2001
"A troubadour who believes in old-style balladeering; songs about saints and drunks with loads of Americana thrown in to liven up the mix. New record coming soon, can't wait!" Village Voice,New York, NY Dec. 7, 1999
"Jim Lampos observes his songs' subjects with a knowing and compassionate eye, finding the poetic rhythms in their lives that others often miss. A great listen!" Lynn Crystal, The Carnival Of Song WFDU FM 89.1 Teaneck, NJ October, 2000
"Fans of singer/songwriters like Leonard Cohen, Bob Dylan, and Bruce Springsteen will find much to love about Jim Lampos. His poetic lyrics about dreamers, lovers, and wanderers are wrapped around melodies that stick in your head for days. His acoustic and electric guitar style is spare, but rich, complementing his warm, gritty singing voice. He's on the road in support of his superb new album, "Rye". The Virginian-Pilot, Norfolk/Virginia Beach, VA Sept. 6, 2002
"Acoustic rock with intelligent lyrics and a great stage presence. Jim and his band are constantly touring and have traveled the equivalent of five times around the globe. It's this sort of life experience that gives their music its texture and honesty. Go if you dig introspective, thought-provoking lyrics backed by some really powerful, folky rock." CitySearch.com, May 2000
"He's carved out a niche for himself in the States as a songwriter who can be counted on for haunting mid-America ballads and four-on-the-floor rock." Folio Weekly, Jacksonville, FL July 4, 2000
"New York singer-songwriter Jim Lampos straddles the line between folk and rock, combining the rich imagery and craft of a folk artist with the instrumentation and pop sense of a rocker." New Orleans Times-Picayune, New Orleans, LA June 6th, 1999
"Lampos' songs are as deep as they are enriching; it seems as though his nationwide tours have enlightenened his fans as much as they have entertained them. Jim Lampos is one of those few artists who can manage to hammer through generic conventions while sacrificing zero creative integrity. He is as committed to providing his audience with a killer show as he is about churning out meaningful, introspective tunes. Get on over to Yianni's Wednesday night and see the artist everyone in America is talking about." FSView and Florida Flambeau, Tallahassee, FL June 23, 1999
This is American folk -- a combination of Elizabethan-era popular song with African-American blues. It's plain-spoken and unaffected and haunting as cold breezes whistling through tarpaper shacks . Lampos follows up with a Blind Willie McTell blues tune, then "Ithaca," a soft ballad that crackles with unspoken tension. In some ways, this is the most "experimental" set of the evening and the most successful. It's the last thing you'd expect to hear at an avant-garde event... which, of course, is quite in keeping with the spirit of the avant-garde." Starvox February 2004
With a crack three-piece band, Lampos concocts a roots-rock stew full of blues, folk, and country. Lampos is a true original." The Virginian-Pilot, Norfolk/Virginia Beach, VA May 26, 2000
"Jonesing for something a little deeper than crashing power chords and mindless banter? Offering what may best be described as "thinking persons' roots rock," the Jim Lampos Band blends articulate lyrics and folk-ified acousticism with an often driving back beat and the punch and pomp of rock. The result is a heady mix of sound and image that will set the feet in motion and the mind in repose." The Lafayette Daily Advertiser, Lafayette, LA June 11, 1999
"Jim Lampos entertained a full house at the Bieroc Cafe Tuesday evening.., delivering thoughtful folk, toe-tapping rock and hold-your-breath soulful blues to around 75 ticketholders".McCook Daily Gazette, McCook, NE June 26, 2002
"Jim has that fire in the belly that makes his live shows an event not soon to be forgotten, so make sure you're there!" Beaufort Venture, Beaufort, NC July 2, 1999
"Many performers have been dubbed poets by music fans and media. But Jim Lampos is one." Bangor Daily News, Bangor ME April 24, 1998
"Strong melodies and soulful delivery. The Jim Lampos Band has a solid acoustic-based rock sound and meaningful poetic lyrics that have drawn raves all along the East Coast." Concord Monitor , Concord, NH Feb 8, 1996
"Is he the soul searching poet or the passionate rock n' roller? Lampos is both. Don't miss this guy and his band, but be prepared to dance--and think." The Virginia Pilot, Norfolk/Virginia Beach, VA Aug 13, 1995
"Balance may be the key word for singer/songwriter Jim Lampos--deep thoughts and poetic images wrapped in high energy music. Introspection kicks up a good time on top of passionate and rocking acoustic-based waves, proving that opposites attract--an audience." The Clarion Ledger, Jackson MS, Oct 26, 1995
"Lampos' music has highly poetic lyrics with a driving acoustic rock sound and an attention to craftsmanship that transcends the ordinary." The Georgia Guardian, Savannah, GA July 7, 1995
---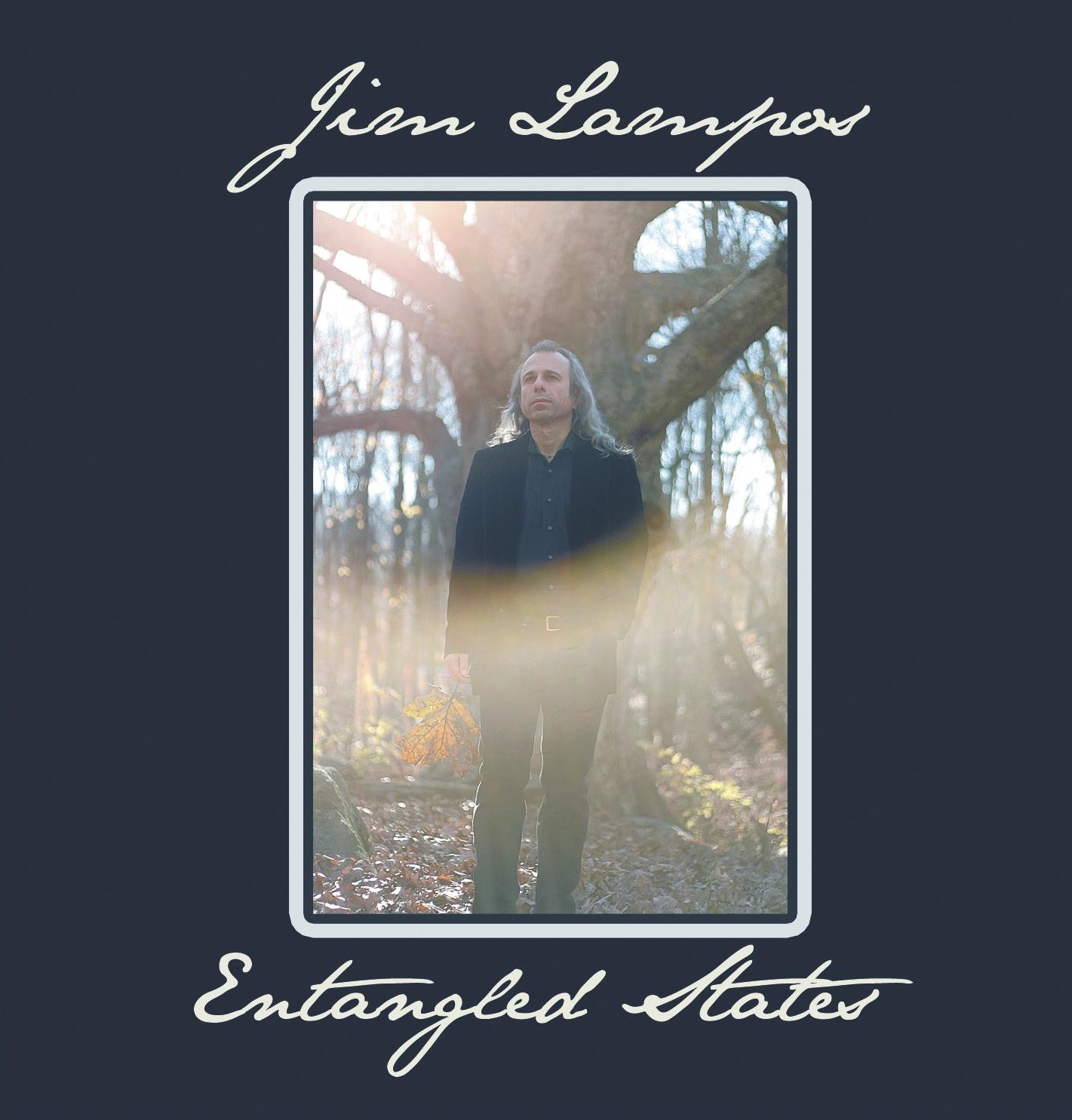 Entangled States:
"Simply, it's pretty wonderful. Loaded with wistful and wise balladry, "Entangled States" is evocative and haunting and features 10 songs of impressive craft and inspiration". Rick Koster The Day June 9, 2016
"The last ten years have been very good for Lampos' songwriting. What was once distinctive has become even more compelling. This is the opposite of easy-going americana, though. Lampos has a flair for the dramatic, and he doesn't write songs for nodding along. He demands full attention, and on this album, these songs deserve every speck." Jon Worley Aiding and Abetting June 16,2016
"Jim Lampos is the perfect CD to end the day ...his poetic words, delicate sounds, and soulful vocals are moments of pure delectation...the cello , the viola and the acoustic guitar are killers ...it is a music that lifts the spirit , a music that makes you cast off ...it is smart, clever, subtle." Mike Penard Radio ISA France
---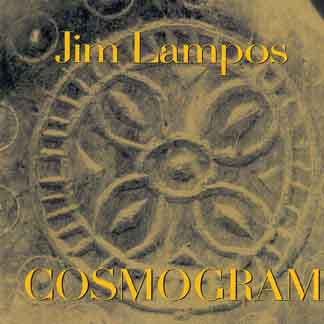 Cosmogram:
PICK OF THE MONTH
Cosmogram
Jim Lampos
2004, Clocwyse Recordings

Artists have been reinterpreting folk music for centuries. Scottish ballads influenced the poetry of Robert Burns; Bela Bartok incorporated the music of the Hungarian countryside in his symphonies. New York musician Jim Lampos follows in that tradition. His latest CD, *Cosmogram,* is firmly rooted in the imagery and ideas of traditional American music, combining the Appalachian folk tunes and Delta Blues with the world-weary sophistication of a Leonard Cohen.
According to Lampos, *Cosmogram* "contains ... a physical space that the songs move through, often quite literally... Ultimately, Cosmogram is about topography, about finding 'the lay of the land' in both a physical and spiritual sense." In lesser hands, this kind of extended conceit could become unbearably pretentious. Lampos is able to pull it off, thanks to his talent and his intelligent, thoughtful songwriting.
The arrangements on this CD are as unadorned as they come: one vocal, one acoustic guitar. Yet this simplicity is deceptive. Lampos is a master of the six-string, finger-plucking lovely, intricate chord progressions. These complex sound patterns are matched by his hyperliterate lyrics. Words rustle against each other like footsteps creaking in a haunted house; lines stretch on well past the point where they should scan... yet somehow they do.
(My only gripe with *Cosmogram* is that Lampos does not include a lyric sheet, nor does he put his lyrics on his website. Hopefully he will correct this oversight in the future. His words definitely can withstand scrutiny and deserve careful attention).
The opening track, "Franklin's Milestone," evokes the Old Post Rode, and the milestones which Ben Franklin erected so postal riders could judge distances. A soft guitar line rings sweet and distant as the next town while Lampos sings
the conversion comes at the point of the sword
the confessions are forced the testimony is false
you were looking to escape skirting the edge of the grave
the night i saw you at the mason's waltz
down down down that old post road
till we meet again at franklin's milestone
The best folk music is timeless, hearkening back to a should have been that always and never was. Is the traveller who's "trying to get to ithaca/but i'm sleeping here tonight" Odysseus, hero of the Iliad, trying to return to his castle in Ithaca, Greece? Is he a trucker trying to make it to Ithaca, New York? Is he both or is he neither? It's a dual metaphor worthy of James Joyce, an extended conceit within an extended conceit.
Lampos is unabashedly intellectual, but he's also capable of throwing off a raunchy, earthy blues tune like "Act of God", with the obligatory woman who can "make a preacher man lose his soul." And if there were any justice in this world, "Riding With Destiny" and "Wastelands" would earn Lampos a permanent gig in Nashville: his wandering souls could have stepped out of a Johnny Cash song or a Flannery O'Connor novel.
This CD catches you from the beginning and draws you in. It also stands up to repeated listens; it's earned a high place in my iTunes Top Rated list. It's not synthpop (for which we can be eternally grateful) but if you're a fan of Nick Drake, Richard Thompson or Leonard Cohen, you'll be all about *Cosmogram.* Heck, if you like your music straight up and dark with a twist of intelligence and a faint glimmer of hope and beauty, you'll be playing this one over and over." Starvox .Kevin Filan March 2004
On the surface, Jim Lampos sounds like any other nuevo-folk singer-songwriter. There's the half-sung, half-spoken vocals, the walking guitar lines and the spartan arrangements. All that is de rigeur. But what continues to impress me, album after album, is how much Lampos does with so little. While my reviews are notorious for ignoring lyrics (a valid complaint), Lampos's phrasing is so exquisite that it's impossible for me to miss his. He's a good guitar player, and he isn't willing to allow his vocals overshadow his rolling picking. Lampos sings about everyday life--most of the time, lives that reside a few miles from the freeway. He doesn't dress up his characters or try to make them more than they are. He just gives them a quiet dignity. There are echoes of Russell Banks and Richard Russo in his people, and that's only fitting. Like them, he celebrates the natives of the unseen parts of the northeast. Given his previous efforts, I'm always expecting something wonderful. And it seems that I've always forgotten just how amazing Lampos's songs are, because every time I'm knocked out all over again. Sometimes the great just get greater. Aiding and Abetting Issue#251. March 2004
"Delightful lyrics and excellent acoustic guitar riffs"--Zoe Montana, RADIOIO Acoustic. February 2004
This New York City based singer-songwriter brings (again) a wonderful album....This is Sol Invictus for a wider audience, Nick Cave on guitar, Leonard Cohen in black. It is a perfect combination of acoustic guitar and dreamy vocals. Sixteen excellent tracks are gathered on this album to spoil your ears. A must have, if you ask me. Darker Than The Bat. Belgium March 2005
---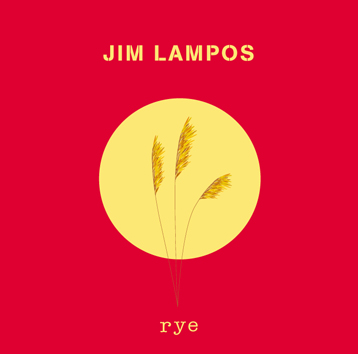 Rye:
Jim Lampos has a pretty simple formula. It's illustrated with his picture in the liners. There's Jim. And there's Jim's guitar. Nothing else is necessary.
Lampos writes songs that celebrate life. The good times, the bad times and even the middling ones in-between. And while this may sound like I'm being vague, actually it's quite unusual to find a person who can express himself so clearly on so many experiences.
Yeah, Lampos has a nice touch on his guitar. But the key here is his singing-- and what he's singing about. His lyrics are plainspoken but still quite eloquent. Just like I'm sitting back and having a conversation with him.
Which is exactly what the whole singer-songwriter is all about. The simplest form of musical communication. Person-to-person, with as little interference as possible. Lampos gets his message across in a most impressive fashion. Aiding and Abetting Issue #224. Nov. 6, 2001
"Jim Lampos is an affecting storyteller, and his fourth recording, Rye, is remarkable." Newsday, New York, NY Nov. 1, 2001
---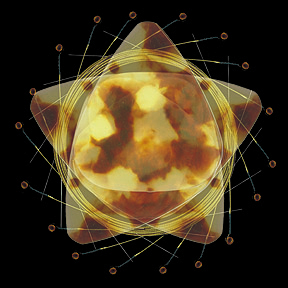 Starlight Theatre:
"Demonstrating a crossover proficiency in multiple musical genres, Jim Lamposí releases would require placement in multiple locations within a music store, in order for justice to be done. But his one constant is literate lyrics that quite often could stand alone as poetry. Lampos displays exceptional descriptive ability and the knack for capturing energy and emotion, sometimes subtly, sometimes rambuctiously throughout this release.
"Resurrection" is a prime example of his craftsmanship. "Ten Cases of Rum" is a lively marriage of square dance and cajun rhythms. "And the Band Played On" is a blow-by-blow recital, minus the post cards, of what are seemingly Fellini-esque encounters on a bandís road trip. The opening verse of "On the Solstice" ably depicts its melding of beauty and mystery. His final cut, the seemingly stream-of-consciousness driven but tightly written "The River Brought Me Here" is a just short of ten minutes folk opera that traverses a southwestern River Styx. Offering one of the best opening lines ever, Lampos begins with: "I was baptized by Lightniní Hopkins in the Brazos..." Buckle up for this one for it will take you on a most wild but exhilarating and fullfilling ride.
Without any intent to diminish the musical settings surrounding the lyrics, this will be a wonderful discovery for those who are elevated by the written word. Lampos has the gift." Celtic and Folk Music CD Reviews, Kevin McCarthy. June 2000 http://www.surfnetusa.com/celtic-folk/index.html
"Jim Lampos puts a moody, somewhat mystical spin on the roots sound. He does this without getting silly or cheesy or stupid. Perceptive and intelligent lyrics sure do help. Now, don't take that moody comment to mean that Lampos can't kick it up just a bit. He does, but even as the tempos rise, Lampos stays cool. And instead of sounding stagey or contrived, it works. Which is really the most appropriate thing to say about this stuff. It works. Nothing complicated, though most certainly thoughtful. Restraint can be a most useful tool sometimes. Still fully intense, of course. These songs burn brightly. Lampos sure knows how to write, and he seems to sell his songs to the listener effortlessly. Sure, it's hard work, but all the better when it sounds so seamless." Aiding and Abetting, Issue #198. April 17, 2000
"On his new album, "Starlight Theatre", the singer/guitarist plays along a thin line between the visible and invisible. The concept may sound sort of new agey, but the songwriter is really a down-to-earth guy. Itís more Bob Dylan than Deepak Chopra. Lampos writes like a poet...(and) wraps his lyrics around hummable melodies. With a crack three piece band--Lampos concocts a roots-rock stew full of blues, folk, and country. Lampos is a true original." óThe Virginian-Pilot, Norfolk/Virginia Beach, VA May 26, 2000
"On the Solstice" is enchantingly good, "Awakening" gets your attention immediately, "Haunted Summer Love" makes you dream. This is a good blend of Nick Cave and the Bad Seeds and REM. With acoustic guitar, violin, percussion, bass, and keyboards, Jim Lampos and his band keep making mysterious ballads." --Darker Than the Bat, Belgium. Online music magazine. May 13, 2000 http://www.proservcenter.be/darkerthanthebat
---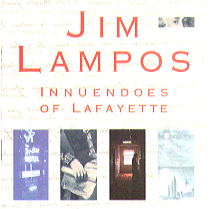 Innuendoes of Lafayette:
"Innuendoes of Lafayette is thoroughly excellent. Jim Lampos really is a songwriter to be reckoned with. At times it seems a complete injustice that someone capable of creating songs as tender and beautiful isn't more well known." Curious Goods. Online Music Magazine Glasgow, UK Dec 22, 1997

"Innuendoes of Lafayette is one of those kinda country, kinda folk, kinda rock albums that manages to satisfy all of those jones. Lampos is a songwriter of unusual power." Aiding and Abetting Online Music Magazine April 13, 1997

"Jim's fine new CD, Innuendoes of Lafayette,is filled with images of woe and wonder" Village Voice, New York, NY. Voice Choices, March 25, 1997
---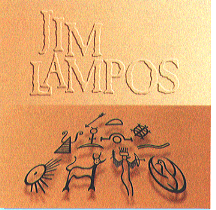 Dreamland in Flames:
"Native American history and motifs are seamlessly blended into the rock-folk format in a work of high ambition and refreshing good taste. It's songs are kept simple, in the tradition of The Band, never losing sight of popular music's inherent strengths, yet the lyrics could keep you busy for days. His NYC references uncover a city hidden from other songwriters. A very special disc." Soundviews, New York, NY. November, 1994

"Beautifully encased, poetic folk-pop pours from this disc effortlessly. (4 Stars)" The Music Paper, Long Island, NY January, 1995

---
News | Bio | Tour Schedule | Hear the Music | Order CDs | The Backroom |
email: jimlampos@aol.com
PO Box 4122, Old Lyme, CT 06371