mikaela
Murder ballads, songs of lost loves and hope eternal.

---

January 31st, 2004
The Lucky Cat
245 Grand Street, Brooklyn, NY
10.00 pm

---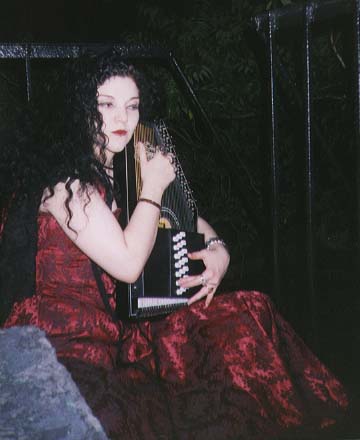 Mikaela's solo shows are a melancholy mix of traditional and original songs that explore the moodier side of life. Listeners can expect a blend of murder ballads, traditional vodou chants and other dark folk/blues influences, plus a bunch of new originals in the same vein. There's also a song cycle in the works featuring the words of female poets and priestesses from times long past. Tales of desperate characters, tortured souls, and eerie encounters. Solo voice and autoharp.
---
Listen to a streaming .wma of Heretofore, recorded live at CB's Gallery 8/4/2000.
---
Mikaela is also the lead singer of C U R S E.



Interested? Join Mikaela's email list for info about upcoming gigs and projects.